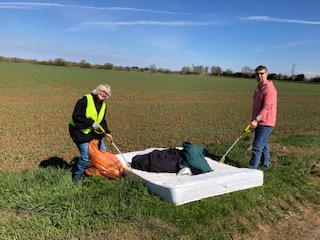 Villagers picked a good day to make Greatford great again!
Thank you to everyone who helped clear the verges and ditches around the village in the annual litter-pick event. Thanks to the year-round efforts of villagers, there was much less litter than usual but it was very satisfying to clear the area of several bagfuls plus some fly-tipping.
Thank you to Bob for overseeing the event, to Linda for organising everyone, to Andy for helping shift the stuff at the end, and a very special mention to young villager, Ewan, who was undeterred by stinging nettles and holes, as he helped keep the village tidy.
Thank you EVERYONE who turned out!